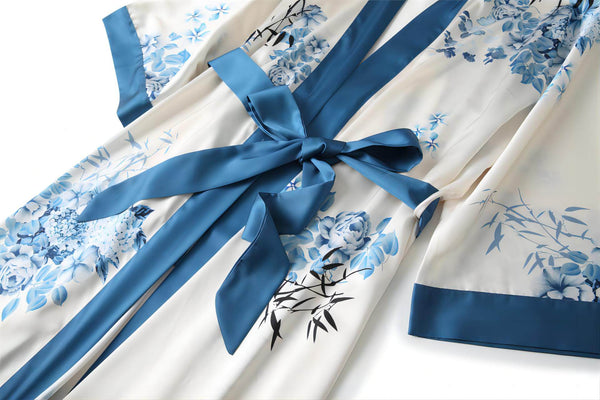 Elegance isn't just an outfit, it's an attitude, an expression of grace and finesse that defines your individuality. Imagine waking up, adorning a soft velvet robe, sipping on a hot cup of coffee while lounging comfortably on your couch. At Ulivary, we are not just about clothing, we are about crafting experiences that add a dash of aesthetics to your life, moments that feel like sheer poetry.
What if we told you that you can push the envelope of versatility and create innovative style statements with just a simple accessory - a belt? This seemingly ordinary item is your passport to extraordinary fashion adventures. A piece that can transform your kimono into a dress, or lend a personal touch to your hairdo and even your bag. Let's journey through the creative avenues you can explore with Ulivary's luxurious belts.
A chic headband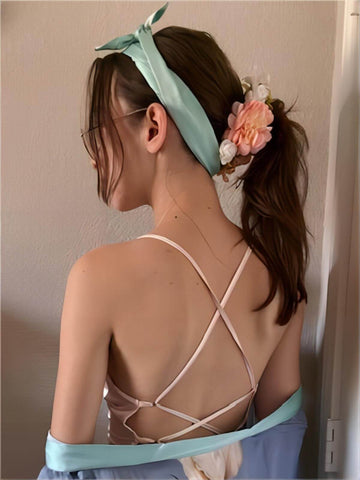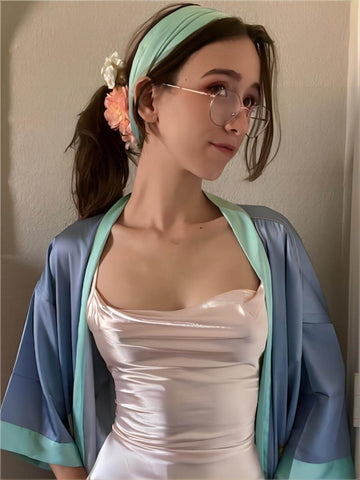 Fashion is an endless horizon of self-expression, and it's time to share your unique story with Ulivary. Our versatile belt, carefully crafted from premium velvet or charmeuse, reimagines the concept of a headband, adding flair to your look while ensuring comfort.
Take the ordinary out of the daily and transform it into something extraordinary. With the Ulivary belt serving as a trendy headband, your hairdo becomes an exciting canvas for expression. Be it a relaxed bun or a sleek ponytail, the belt provides a unique twist, offering a chic textural contrast.
This approach isn't just about aesthetics; it's about practicality. No more quest for the perfect hair accessory – your Ulivary belt is your one-stop solution, blending seamlessly with any outfit, creating a cohesive, stylish look from head to toe.
Choosing the Ulivary belt as a headband isn't just a fashion choice; it's a lifestyle. It's about embracing versatility, and displaying your individuality and creativity. It's not just a headband; it's your personal style statement. Experience the transformative power of the Ulivary belt-as-headband today.
An extravagant bag charm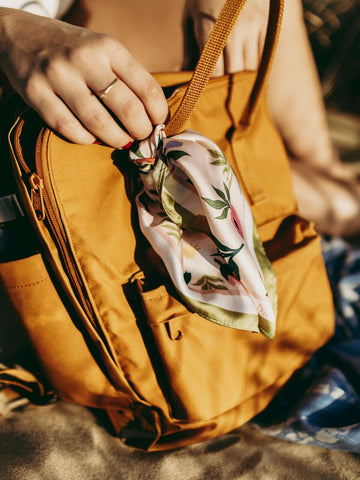 Accessorizing your outfits is like adding a final touch of magic to a masterpiece painting. An accessory doesn't just complement your attire, it tells a fascinating tale of your personality and taste. One such accessory that can make your style sparkle is a bag charm.
Presenting the Ulivary belt, an exceptional piece that is more than just a belt. By transforming into an extravagant bag charm, it ushers in a unique blend of fashion and functionality.
Crafted from exquisite velvet or charmeuse, our belt is versatile enough to lend an aesthetic appeal to any bag, whether it's a casual tote or a sophisticated clutch. Simply tie it around the handle or let it hang loose to create a scarf-like illusion, instantly elevating your bag's style quotient.
The Ulivary belt is the embodiment of flexibility, blending effortlessly with any bag, accentuating its look, and adding a pop of color and texture. This stylish deviation from the traditional use of a belt opens a world of possibilities for personalizing your bags and making a statement.
Choosing the Ulivary belt as a bag charm is more than just accessorizing. It's about embracing a creative approach to style, highlighting your individuality, and showcasing your fashion-forward thinking. Experience the power of transformation with the Ulivary belt as a bag charm, and watch your style narrative take flight.
A stylish hair weave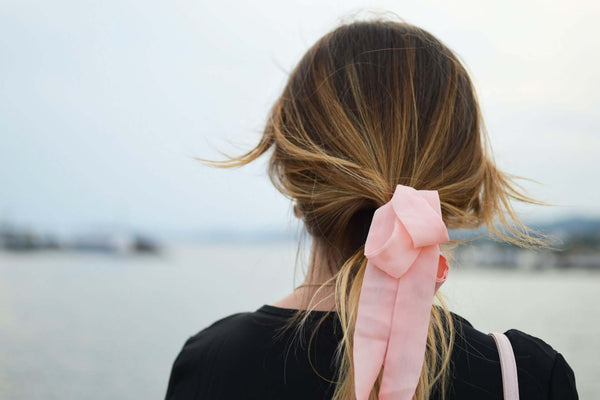 The art of hairstyling is akin to a symphony where creativity orchestrates the tune. If you're a fashion enthusiast who loves experimenting with hairstyles, Ulivary has a stylish surprise in store for you: our versatile belt.
Imagine our Ulivary belt, crafted from rich velvet or silky charmeuse, weaving its magic into your hair, creating a stylish hair weave. This accessory doesn't just blend in; it adds an element of surprise and a dash of personality to your hairstyle.
You could twist it around a fishtail braid, lending a boho touch, or secure a half updo, creating a chic look. The smooth texture and high-quality fabric of our belts make them a comfortable and fashionable addition to any hairstyle, adding volume, color, and a bit of a whimsical touch.
Using the Ulivary belt as a hair weave isn't just about stepping up your hairstyle game. It's about embracing your creativity and letting your imagination run wild. It's a statement that tells the world about your flair for the unique and innovative.
With Ulivary, you're not just creating hairstyles; you're weaving stories of style and self-expression. Dare to be different, dare to be you, and let your hair do the talking with the transformative magic of the Ulivary belt.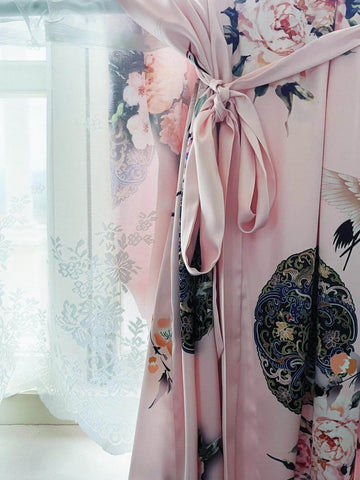 Thought your Ulivary kimono was only for lounging or sleep? Think again! Tie the belt around the waist, add a pair of heeled boots, and voila! You have a stylish dress ready for a day out. The comfort of our velvet and charmeuse fabric makes this outfit a perfect combination of style and ease.
Ulivary is all about celebrating the freedom of personal expression. Our designs are not just about aesthetics, they are about transforming daily wear into works of art. After all, fashion is about showcasing your personality and creativity. And with Ulivary, you're free to express yourself in as many ways as you desire.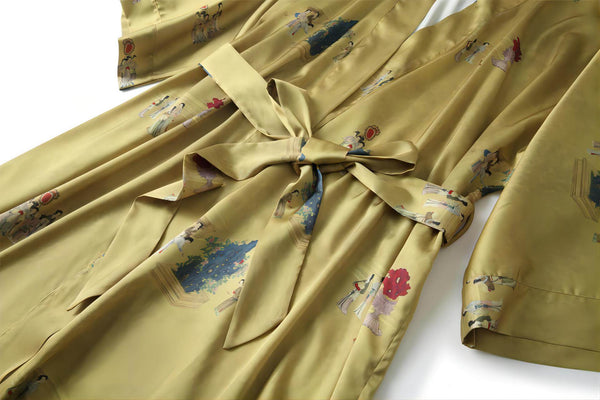 Our products are crafted with a focus on comfort and style, using luxurious materials like velvet and charmeuse. Whether you're in a robe, a kimono, or just lounging about, our Ulivary belt provides the perfect touch of individuality. So why not weave your unique style story with Ulivary and redefine the conventional?
So the next time you want to add an extra bit of elegance and individuality to your day, remember: a little creativity and your Ulivary belt are all you need. Find us at here and let your imagination take flight with Ulivary, where aesthetics meet comfort in perfect harmony.
Live it, love it, wear it – Ulivary.
Stay updated, stay concerned.